Steady Growth in Revenue and EBITDA with

Explosive Expansion of Direct Drinking Water Services



Results Highlights: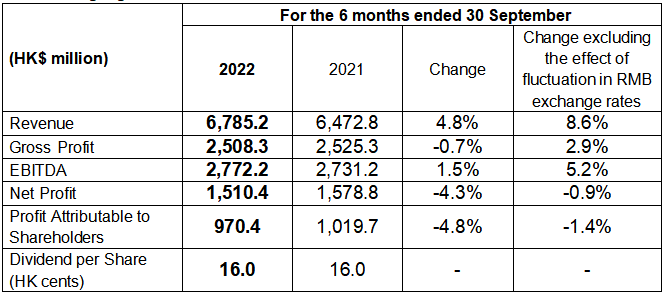 (30 November 2022, Hong Kong) China Water Affairs Group Limited ("China Water Affairs" or the "Company", stock code: 00855.HK), a leading integrated water services operator in China, today announced its interim results of the Company and its subsidiaries (collectively referred to as the "Group") for the six months ended 30 September 2022 (the "Reporting Period" or the "Period").
During the Reporting Period, the Chinese economy was dragged down by multiple factors such as recurrent outbreaks of the coronavirus disease and complicated international environment. Nevertheless, underpinned by the sustainable "resilience" brought by its core utility business based on water supply services, the Group maintained steady growth in revenues from "city water supply operation and construction" and "environmental protection" segments. In particular, revenue from direct drinking water related business saw explosive growth.
The Group achieved steady growth in operation during the Period and recorded revenue of HK$6.785 billion, up 4.8% year-on-year or 8.6% year-on-year if the effect of fluctuation in RMB exchange rates was excluded. The EBITDA amounted to HK$2.772 billion, up 1.5% year-on-year or 5.2% year-on-year if the effect of fluctuation in RMB exchange rates was excluded. Profit attributable to shareholders was HK$970 million, down 4.8% year-on-year or 1.4% year-on-year if the effect of fluctuation in RMB exchange rates was excluded. The decrease was mainly attributable to a combination of external factors, including the wide fluctuation in RMB exchange rates, the sharp rise in U.S. interest rates and sporadic outbreaks of the pandemic.
Benefiting from the Group's successful implementation of long-term strategy to promote urban-rural water supply integration, the volume of water sold increased 5.21% from a year ago. Facing the resurgence of coronavirus infections in widespread areas and the lockdown of end-user scenarios such as local communities and schools, the Group firmly implemented the strategy to drive the development of twin business pillars and vigorously promoted the direct drinking water businesses, thereby securing hard-earned growth. Triple-digit growth was seen in revenue from direct drinking water operation services and connection if the effect of fluctuation in RMB exchange rates was excluded. Revenue from direct drinking water business amounted to HK$410 million, up 69.9% year-on-year or 76.1% year-on-year if the effect of fluctuation in RMB exchange rates was excluded. This segment has evolved to be an outstanding profit growth driver. During the Period, the Group adhered to the principle of water supply and drainage integration and focused on the development of high-quality sewage treatment projects.
Benefiting from the contribution of high-quality sewage environmental protection projects such as Ningxiang Drainage, Huizhou Qingyuan, and Jingzhou Zhongshui, revenue from environmental protection segment surged 22.3% year-on-year to nearly HK$730 million, of which revenue from sewage treatment and water environmental renovation construction services increased by 21.8% year-on-year to nearly HK$450 million.
The Group maintained a satisfactory liquidity position. As at 30 September 2022, the Group had total cash and cash equivalents and pledged deposits of approximately HK$6.881 billion, up 5.4% from the end of March this year. It is particularly encouraging that the net debt to EBITDA ratio as at 30 September 2022 dropped 0.3% when compared to last year. The board of directors of the Company believes that the Group will have sufficient working capital to meet its financial obligations in full as they fall due in the foreseeable future.
In response to the complicated and ever-changing operating environment, the Group proactively enhanced its financial structure in order to lay a solid foundation for the sustainable and healthy growth. On 3 November 2022, the Group entered into a five-year syndicated loan facilities agreement with an amount up to US$500 million. The proceeds raised will be used for early repayment of bank loans due in 2023 and 204 respectively and for replacement of outstanding short-term loans with long-term loans, thereby extending the debt maturity, enhancing the debt structure and significantly improved the Group's current ratio.
Looking ahead, with the successful conclusion of the 20th National Congress of the CCP, the Chinese government will remain steadfast in the overall policy direction of supporting the national economic growth. In addition, the National Health Commission has recently promulgated the "20 Measures for Optimizing COVID-19 Response", which will create a favorable environment for the market revival in an orderly manner and the rapid economic recovery.
The Group believes that the outlook of domestic water affairs market remains rosy. According to the "Opinions on Enhancing Support for Private Sector's Investments and Development" (document no. 1652) recently issued by the National Development and Reform Commission, the government emphasizes the need to support private enterprises to invest in infrastructures through public-private partnership reform, the introduction of strategic investors as well as professional operators and managers. With years of cultivation in water industry and precise planning, the Group is poised to grasp the invaluable opportunities arising from the urban-rural water supply integration and the water supply-drainage integration. It will stick to the business development model which stresses a win-win cooperation with local governments, focus on the development of twin business pillars – water supply and direct drinking water services, strive to drive new breakthroughs in water affairs businesses and to deliver greater returns to shareholders.
~END~
About China Water Affairs Group Limited
China Water Affairs Group Limited is a leading professional, market-oriented and cross-regional integrated water supply services operator in China and the only Hong Kong listed company focusing on tap water services. It is headquartered in Hong Kong with two operation management centers in Beijing and Shenzhen. The Group (including its associated companies) mainly operates urban water supply, pipeline direct drinking water, sewage treatment and drainage, and other related value-added services in Mainland China. Its service network covers more than 30 million people in over 100 cities spread across 20 provinces, including 3 direct-administered municipalities. The Group possesses an aggregate daily water processing capacity of more than 20 million cubic meters, thereby establishing its leadership in China's water affairs market with a complete industrial chain. Its management team comprises seasoned professionals in the water industry with in-depth knowledge of related government policies. The Company's shares were included in the first batch of securities eligible for trading through Shenzhen-Hong Kong Stock Connect in 2016. They have also been included in the FTSE Environmental Opportunities Asia Pacific Index since 2009.
This press release is issued by PRChina Limited on behalf of China Water Affairs Group Limited.
For investor and media enquiries
PRChina Limited
Alana Li / Rachel Chen
Tel: (852) 2522 1838 / (852) 2522 1368
Email: ali@prchina.com.hk / rchen@prchina.com.hk