(20 December 2022, Hong Kong) China Water Affairs Group Limited ("China Water Affairs" or the "Company", stock code: 00855.HK) won the "Best ESG Award" at the 7th Zhitong Caijing Listed Company Awards and Presentation Ceremony grandly held yesterday in Hangzhou. This achievement showcases that the Company's efforts to promote environmental protection, fulfill social responsibilities and strengthen corporate governance have been widely recognized in the market and the investment community.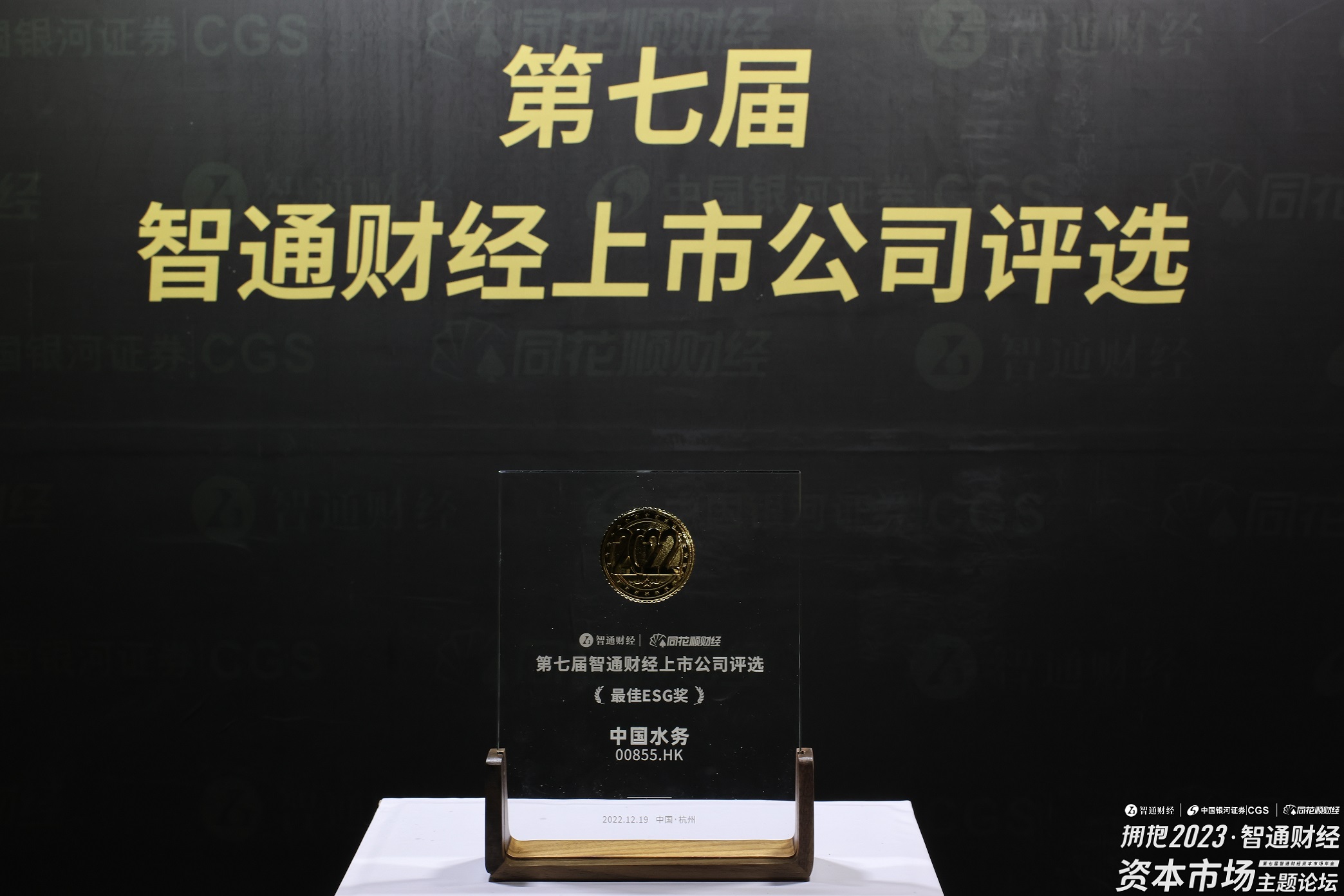 The spectacular event featuring the theme of "Brace for 2023 – the 7th Zhitong Caijing Annual Investment Forum" is co-organized by Zhitong Caijing, a leading Hong Kong and US stock information service platform in Mainland China, along with China Galaxy Securities and Tonghuashun Caijing. Winners of the 24 listed company awards were announced during the event to be held in Hangzhou on 19-20 December 2022. The Zhitong Caijing Listed Company Awards and Presentation Ceremony has evolved to be an authoritative event for selecting best Hong Kong and US listed companies in the world and become an important benchmark widely recognized by global investors.
More than 1,000 Hong Kong and US listed companies participated in this event. They include those from traditional industries such as energy, finance, automobiles and industrial manufacturing, as well as those from emerging sectors such as communications, chip production, Internet, and medical care and medicine which drive China's economic transformation. The "Best ESG" Award is intended to pay tribute to listed companies with outstanding performance in the environmental, social and governance (ESG) which produce positive impacts.
The winning of the "Best ESG" Award demonstrates that China Water Affairs' excellent ESG performance has been widely appraised and recognized by the capital market. It also confirms that the Company is moving on the right track by proactively developing premier tap water and pipeline direct drinking water services to drive high-quality urban development, as well as taking the multi-pronged approach to achieve the "dual carbon" targets.
In the future, with years of cultivation in water industry and strategic planning, China Water Affairs is poised to grasp the invaluable opportunities arising from the urban-rural water supply integration and the water supply-drainage integration. It will stick to the business development model which stresses a win-win cooperation with local governments, focus on the development of twin business pillars – water supply and direct drinking water services, strive to drive new breakthroughs in water affairs businesses and to deliver greater returns to shareholders.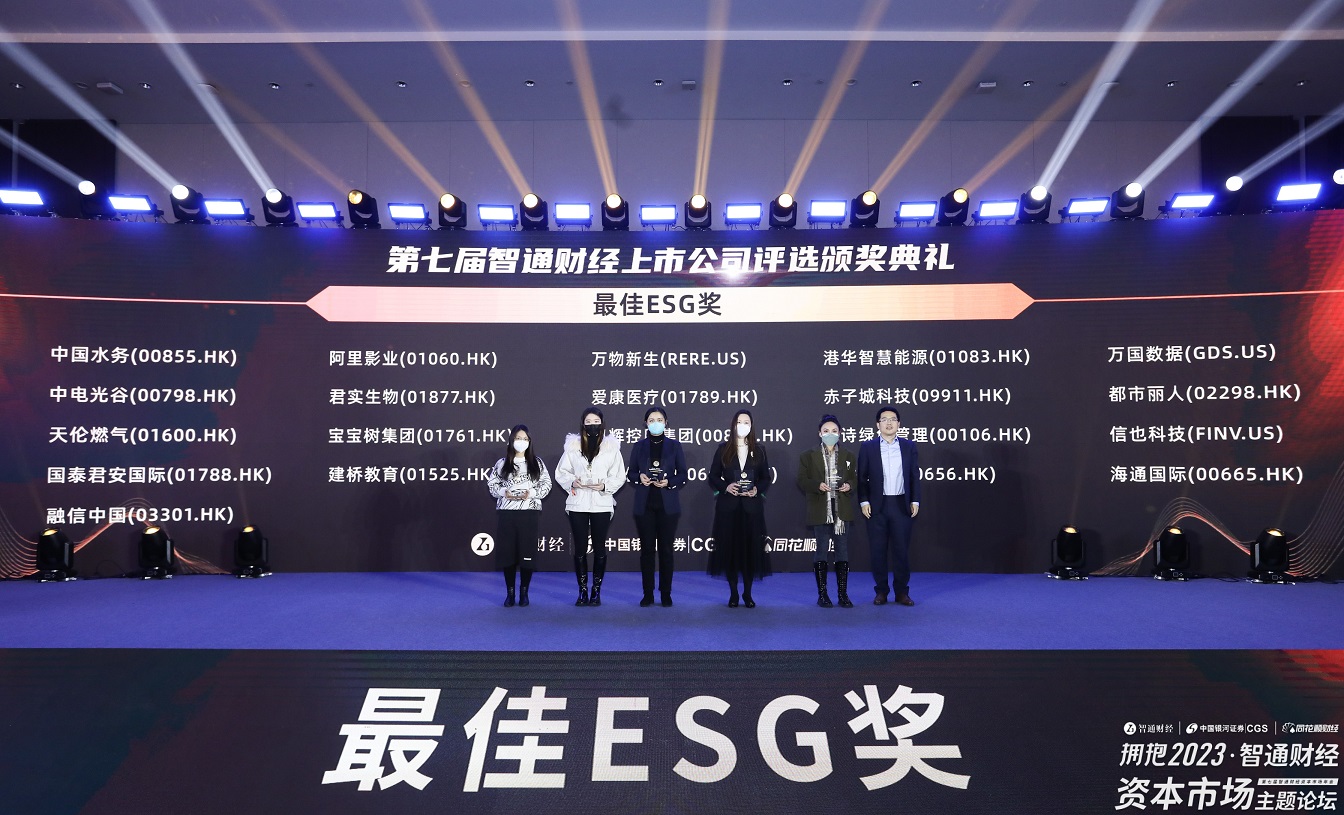 ~END~
About China Water Affairs Group Limited
China Water Affairs Group Limited is a leading professional, market-oriented and cross-regional integrated water supply services operator in China and the only Hong Kong listed company focusing on tap water services. It is headquartered in Hong Kong with two operation management centers in Beijing and Shenzhen. The Group (including its associated companies) mainly operates urban water supply, pipeline direct drinking water, sewage treatment and drainage, and other related value-added services in Mainland China. Its service network covers more than 30 million people in over 100 cities spread across 20 provinces, including 3 direct-administered municipalities. The Group possesses an aggregate daily water processing capacity of more than 20 million cubic meters, thereby establishing its leadership in China's water affairs market with a complete industrial chain. Its management team comprises seasoned professionals in the water industry with in-depth knowledge of related government policies. The Company's shares were included in the first batch of securities eligible for trading through Shenzhen-Hong Kong Stock Connect in 2016. They have also been included in the FTSE Environmental Opportunities Asia Pacific Index since 2009.
This press release is issued by PRChina Limited on behalf of China Water Affairs Group Limited.
For investor and media enquiries
PRChina Limited
Alana Li / Rachel Chen
Tel: (852) 2522 1838 / (852) 2522 1368
Email: ali@prchina.com.hk / rchen@prchina.com.hk