(11 May 2022, Hong Kong)

China Water Affairs Group Limited

("China Water Affairs" or the "Company"; stock code: 0855.HK), a leading cross region water supply operator in China, is pleased to announce that the Company has been honored with the "Resilience Award" at the first "Asian Development Bank Impact Awards" hosted by the Asian Development Bank (ADB). The Company received recognition for its significant influence and strong demonstration in projects such as urban water supply infrastructure, urban-rural water supply integration and integrated water resources management, as well as its commitment to green development and social responsibility.
Mr. Duan Chuanliang, Chairman of China Water Affairs, expressed his gratitude to the ADB for the long-term trust and support to the Company and said he was honored to see the cooperation projects being recognized by the country and society. "China Water Affairs has been committed to its business vision of 'Water-oriented, Kindness to Society' for more than 20 years. The Company actively shoulder the social responsibility and thrives to bring high quality water products and services to customers, in order to improve people's living environment, enhance people's well-being and promote social development. The Company takes full advantages of its management capacity, technological development, talents pool and other aspects, and actively participates in public utilities such as water supply services and water supply infrastructure construction, comprehensive water resource management and environmental governance in mainland China. During this process, the Company has successfully implemented major development strategies such as urban-rural water supply integration, water supply and drainage integration, and the pipeline direct drinking water business. It has now developed into a leading professional and market-oriented cross region integrated water supply operator in China."
Mr. Duan Chuanliang also pointed out that the support from ADB had been indispensable for the Company
'
s achievements
. Looking forward, the China Water Affairs will continue to join hands with ADB to build a safe and resilient urban water supply system with high quality for more people in China and strive to create sustainable value for society.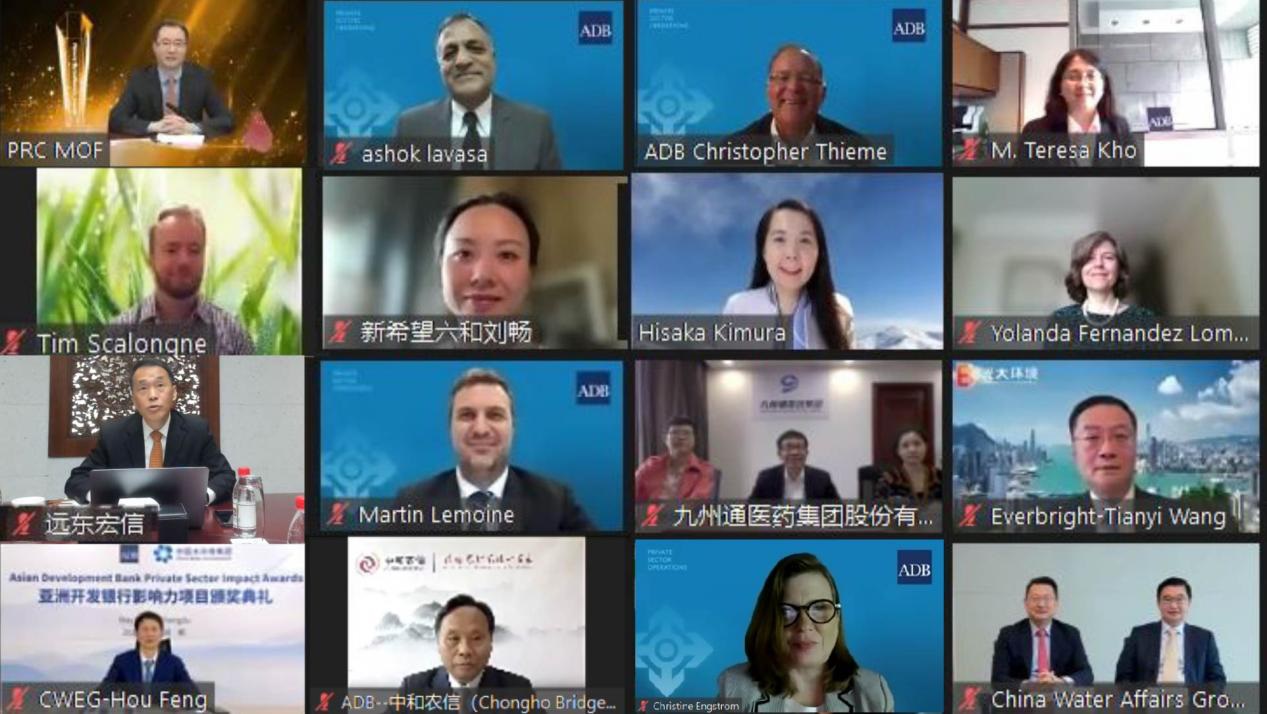 Caption: Video conference of the award ceremony
-END-
About China Water Affairs Group Limited
A leading market-oriented, professional, international, and cross region water supply operator in China and the only Hong Kong listed water company focusing on tap water. Headquartered in Hong Kong. Operation management centers in Beijing and Shenzhen. The main business of the Group (including associated companies) is to operate urban water supply, pipeline direct drinking water, sewage treatment and drainage and other related value-added services in the Mainland of China. Covering around 30 million people in over 100 cities in 20 provinces and 3 municipal cities. Total daily capacity: over 20 million m³, and the Group has established a leading position in the overall business operation mode in China's water affairs market. Management comprises of veteran experts in the water industry with insight into government policies. Included in the first batch of Shenzhen-Hong Kong Stock Connect by HKEX in 2016. Included in the FTSE Environmental Opportunities Asia Pacific Index since 2009.
This press release is issued by PRChina Limited on behalf of China Water Affairs Group Limited.
-END-
Investor and Media Enquiries
PRChina Limited
Alana Li / Rachel Chen
Tel: (852) 2522 1838 / (852) 2522 1368
Email: ali@prchina.com.hk / rchen@prchina.com.hk